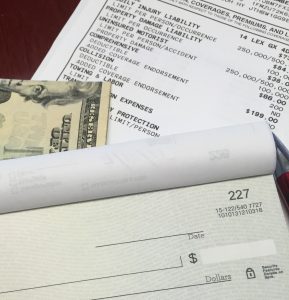 NOTICE: The information contained on this page site is intended to educate the general public and is not intended to provide legal advice. To ensure proper handling of your individual situation, please call +1-703-527-1779.
EFFECT OF INSURANCE CLAIMS ON INSURANCE RATE IN VIRGINIA 
Our personal injury clients often ask: "will my insurance cost increase if I make a claim?"  The answer in Virginia is – NO, unless you were at fault. Many people don't know this. There is a daunting notion that, at any time a claim is made against your insurance policy, your insurance rate will rise. That is a myth, at least in Virginia. Insurance companies love this myth. In some states, the insurance companies, through rigorous lobbying and legislative action, enjoy almost unlimited privileges and they increase insurance rates as they want. But, not in Virginia. Such predatory practice by insurance companies is controlled by Virginia Code § 38.2-1905(A).
Virginia Code § 38.2-1905. Motor vehicle insurer not to charge points or increase premiums in certain instances… A. No insurer may increase its insured's premium or may charge points under a safe driver insurance plan to its insured as a result of a motor vehicle accident unless the accident was caused either wholly or partially by the named insured, a resident of the same household, or other customary operator. No insurer may increase its insured's premium or may charge points to its insured where the operator causing the accident is a principal operator insured under a separate policy. Any insurer increasing a premium or charging points as a result of a motor vehicle accident shall notify the named insured in writing and in the same notification shall inform the named insured that he may appeal the decision of the insurer to the Commissioner if he feels his premium has increased or he has been charged points as a result of a motor vehicle accident without just cause. 
This means that the insurance company, by law, is not allowed to increase your premiums if you make a claim against your own insurance for damages that were not caused by you. This includes claims under Medical Payment (MedPay) coverage, Personal Injury Protection (PIP) coverage, or Uninsured and Underinsured (UM/UIM) coverage. 
If you've been hurt because of someone else's negligence, you have the right to demand financial compensation. Our attorneys are committed to securing the money you deserve for your injuries. We can achieve maximum results if you contact us immediately after your accident. We will represent you on a contingency basis—that means you pay no legal fees until we recover money for you. For a free initial consultation and case evaluation, please contact us: +1-703-527-1779 or via e-mail:[email protected].